The Greatest
Grocery Store
In The World.
Discovery
While I realize this is only tangentially related to beer enjoyment, I felt the need to trumpet a business that I have loved for years, that has supported by beer habit admirably, and seems to never disappoint. If you do not agree with my assessment that
Wegmans
is the greatest grocery store in America, then the only reasons I can attribute to this personal failing of yours are:
You haven't been to one of their stores

You don't like having a wide range of choices

Bulk candy is difficult to resist gorging yourself on

You don't like helpful, courteous staff that are a pleasure to talk to
During a recent trip to Wegmans to purchase some beer, two things slapped me in the face as a reminder that some businesses still care about customer service.
The first item is the cost. We've noticed over the months since the stored opened that their wine and beer prices are not only competitive, but actually the lowest cost we can find around. The
example du jour
is
Sapporo
.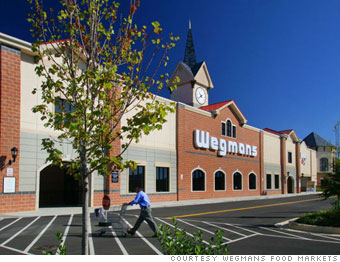 A few months back, I had a hankering for a dry japanese (having just been out for Sushi), so I went to a larger beer retailer, but not my Local Liquor Store (LLS). Each can was sold for almost $4.00 each, and I was very interested in getting a 12-pack. Yes, I was in the hole for almost $50, but it did hit the spot.
As you can see below, Wegmans was offering it for considerably less:
The second example is:
The Beer
And more specifically, the selections and options available. In this case, I was interested in trying a range of holiday and seasonal beers that I would like to complete reviewing over the next couple of weeks. In an effort to ward off full-blown alcoholism, I didn't really want to buy a six-pack of everything, and Wegmans offered this:
So I was able to select six beers that looked interesting, without having to make a huge commitment of 36 beers. All of this was available for under $12, and I couldn't be happier. If you're wondering what I bought, and will be reviewing in the coming days, these are the seasonals:
Recommendation
Look for a local Wegmans, go there, and hope they offer beer for sale. Some don't, depending on the state and the store. I think you'll enjoy it, and at the very least, I promise it will be an experience to remember.
- Enthusiast